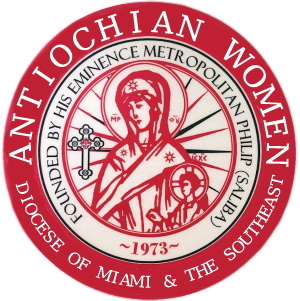 The Antiochian Orthodox Christian Women of North America was founded in 1973 through the vision of His Eminence Metropolitan Philip (Saliba) of Thrice-Blessed Memory. Today, it is an organization of the Antiochian Orthodox Christian Archdiocese and is led by His Eminence Metropolitan Joseph.
Our purpose is to develop among the women a spirit of Christian leadership, awareness, and commitment; to foster a genuine expression of love and service through works of charity; and to install a sense of fellowship and a deeper understanding of our Holy Orthodox Faith. We are a "Sisterhood Serving Christ Through Serving Others."
His Eminence Metropolitan Joseph once said, "When everyone left our Lord Jesus Christ alone on the cross, the women were there. Can you see how important the women are? You are the myrrhbearing women!" We welcome women from the ages of 19 to 99, and urge you to join us in our ministry, remembering that EVERY woman in the Antiochian Archdiocese is an "Antiochian Woman"!​
Antiochian Women Leadership
Antiochian Women Prayer
In the Name of the Father and of the Son and of the Holy Spirit.
O Christ our God, we are all pledged to serve Thee with our whole being. Help us to continue to work for Thee through our Church without seeking praise, without seeking personal gain, without judging others, without a feeling that we have worked hard enough and now must allow ourselves rest.
Give us strength to do what is right and help us to go on striving and to remember that activities are not the main thing in life. The most important thing is to have our hearts directed and attuned to Thee. Amen.